Clean Process Water
Technologies & Solutions for Process Water Treatment
After dealing with the challenges of process water treatment, we would now like to present the available solutions. Felderer has a whole range of innovative technologies which we have developed ourselves. Processes must be synchronised with each other and with the customer's requirements. Thus, the customer receives an individual solution.
We do not just deliver a finished product but accompany you from planning and installation to putting into service on-site ... and beyond. We can rely on the experience of over 20 years, more than 200 successfully installed systems and innovative technologies made by Felderer.
The Technologies & Solutions by Felderer
Filtration Technology + UV
Our model series PERKEO with a capacity of 6 to 50 m³/hour stands for reliable filtration technology paired with state-of-the-art UV systems.
During the sorting of fruit and vegetables, organic matter such as stalks or leaves, inorganic particles such as soil and earth, and chemical residues accumulate in the process water. These provide excellent breeding grounds for microorganisms such as bacteria, fungi, viruses and algae. For this reason, PERKEO offers various cleaning processes.
Physical cleaning with sand filters ensures that the process water is free from organic solids such as leaves, soil, stems or rotten apples.
In chemical purification, ion exchangers and activated carbon remove dissolved organic pollutants and heavy metals.
The filter systems provide significant advantages: ease of use, low maintenance and high efficiency. The technology applied is tested, delivers excellent results and treats the process water to be both legally and hygienically eligible.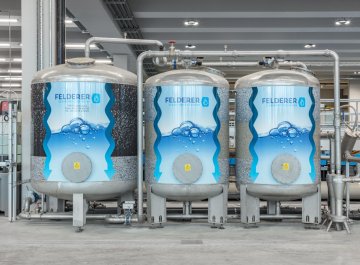 Flocculation
Our FLOC is the perfect addon to your water treatment system for a complete, sophisticated, and efficient filtration system. It works on the principle of flocculation to purify heavily polluted and muddy water.
After adding a flocculant, the dirt particles clump together to form larger particles. Then, they sink to the bottom of a sedimentation tank (see picture for sedimentation tank).
As a result, the clean water remains in the upper part of the tank, whereas the mud collects in filter bags ready for disposal. Finally, the cleaned water retunes into the cycle.
Using the FLOC in combination with the PERKEO filter, you can reduce water consumption by up to 95%. In our laboratory, we carry out tests with different variants of the flocculant and the process water of our customers to perfectly adapt the agent to the individual conditions.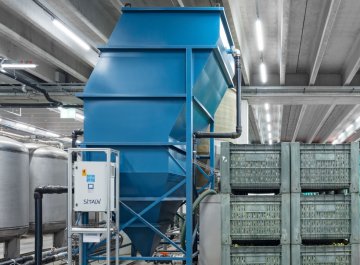 Fru-Jet
Cleaning fruit and vegetables directly at the beginning of the sorting process (at the end of the bin dumper channel) avoids the introduction of dirt elements into latter water circuits (the filler lines), enables the further processing of clean produce and reduces losses when passing through the photo scanner.
That is why at Felderer, we have developed our own system that combines high efficiency with gentle handling: the Fru-Jet.
Conventional water jets or the water shower have only a minor cleaning effect: dirt carried over with the produce can contaminate water channels following later in the sorting process. Moreover, these systems consume vast amounts of water.
Fru-Jet consists of specially arranged nozzles that spray the goods with high pressure from different angles without damaging them. Beforehand, the system mixes the water with air for higher efficiency and lower water consumption. As a result, Fru-Jet loosens adhering leaves, dirt particles, pesticide residues and sanitises the goods. In addition, the sprayed crop is treated with care and does not suffer any damage.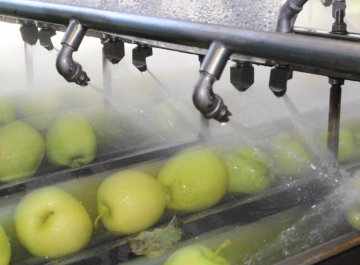 LEONARDO™ Disc Filter
Pragmatism and efficiency in process water treatment have a name: LEONARDO™. Our self-developed disc filter takes action when defoliation and removal of solids from the water is required.
The system achieves a very high throughput capacity, which can reach up to 450 m³/hour. LEONARDO™ extracts particles down to 0.2 mm, whereas standard systems reach their limits with particles smaller than 5-7 mm.
The LEONARDO™ disc filter offers even more advantages. It is self-cleaning, maintenance-free and designed to be easily installed. In addition, its robust construction increasingly extends its longevity.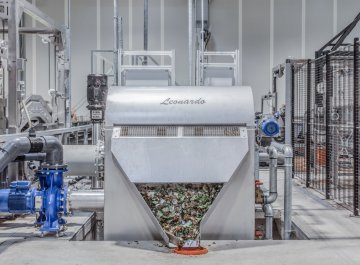 Disinfection Technology
After the removal of dirt particles by filtration, disinfection is a necessary prerequisite for combating microbial contamination. At Felderer, we offer disinfection systems according to your requirements which convince thanks to their efficiency and ecological sustainability. We can rely on two approaches based on different principles:
Systems that neutralise microorganisms at a specific point in the water cycle through UV light or ozone.
The use of harmless disinfectants and oxidants with a depot effect that remain in the water cycle for a specific time. We apply procedures that we adapt to the customer's needs.
On-site Production of Disinfectants
A special feature is a plant for the on-site production of disinfectants: Felderer owns a generator for the production of electrolysed water. Since we can produce directly on-site, you are not dependent on external supplies being much more flexible than with conventional products.
In addition, the disinfectant produced is 20 times more effective than standard chlorine products, uncomplicated to handle and not classified as a hazardous substance.